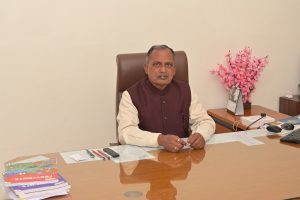 "Rely on your own strength of body and soul. Take for star self-reliance, faith, honesty and industry. You can steer your own ship and remember that the great art of going together is to take a fair share of the work. Fire above the mark you intend to hit. Energy, invincible determination with the right motive are the levers that move the world".
Last 3 years have seen us making great strides in holistic learning which is reflected in our students getting the right opportunities to learn from the grass roots as well as they have the flexibility and options to tread the path they have been through of. Our sincere gratitude to the parent for their faith and trust they have shown in our policies and instructions in the process of making world- class professionals by working on their core competencies. Our primary purpose is to enhance and sharpen these growing talents to reach on top in their life.
In my capacity as the founder of BGI, I welcome you all and assure that we shall leave no stone unturned to promote your career interests. We are equipped to impart the best possible training and holistic development of your life. We know you have dreams to achieve and we want you to know you have dreams to achieve and we want you to know that we are there with you, Always.
Best of Luck.
M.L. Verma